About Me
Mary.
Chicago.
Twenty-something.
Works with words.
Learn more here!
I write at Persephone Magazine.
I blog about what I'm reading.
Words Amidst a Sea of Pictures
Reflections From AWP 2012
BEDA 2012 Posts
Non-Themed Text Posts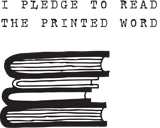 As I've posted here, I've been struggling with what to fill this blog with. Luckily, this past week gave me some great material to write about. This year was my first time attending the annual conference held by the Association of Writers & Writing Programs. The conference was held in Chicago this year and the company where I work purchased a badge for me to attend and help hold the fort at our table. I wrote up some thoughts on each day of the conference, so here's the first one! 
On Wednesday, AWP "began." I use the cheeky quotation marks because Wednesday was only the set up day. There were no panels or presentations, so it wasn't really a full conference day full of attractions. But I was there, so I thought I'd write about what it was like. 
I spent Wednesday morning in the office, dealing with the usual influx of emails and other minor catastrophes that needed to be handled. Around lunch time, I ate some food very quickly and then gathered all the materials we would need to set up our table at AWP. One of our interns, H, agreed to come along. So the two of us, two girls laden with some very heavy bags, hopped on the bus and began the trek eastward into the city. 
AWP was being held this year at the amazing Hilton Hotel on Michigan Avenue, a building that makes me very nervous. I observe its beauty and I know it's an amazing, historic building, but it feels very much like a place where I should not be allowed. To make that feeling of alienation even worse, I was wearing blue jeans and was generally very dressed down on Wednesday. In any case, we made it to the Hilton all in one piece (though with aching shoulders and new adventures into the world of back pain that I would not discover until the next morning) and found our table space. 
Through the magic of exposition shipping, the books we had ordered for the conference were already located under our table! This was especially helpful as we had enough trouble carrying the few materials we needed in addition to the books from our office. I had been the one to order these books, but it was still a shock to me how many books we had to work with! After much arranging, rearranging, jiggering and pokering, we came up with something resembling an attractive table set up. 
After soaking in the vibe (that was, granted, fairly subdued in the early to mid-afternoon on the first day), I got to step out on to Michigan Avenue and catch a bus to catch a train. 
Stay tuned for Thursday!